Join us for our Season Launch and 10yr Anniversary Dinner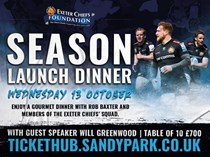 It's time to look forward, the new rugby Season is upon us and after the challenges of the past two years, we can't wait to return to full stadiums and cheering fans!
In celebration of the upcoming Rugby Campaign and the 10th Anniversary of the Exeter Chiefs Foundation, we are delighted to welcome you along to the Season Launch Dinner! The evening is going to look ahead to the exciting new challenges which the club faces as we continue our development as one of the dominant forces in the European Game.
We will also be looking at some of the amazing work the Exeter Chiefs Foundation has done since inception
Q & A with Rob Baxter Exeter Chiefs Director of Rugby and a few familiar faces to offer a preview of the new Season.
Will Greenwood will be our Guest Speaker for the evening
A Charity Auction and Raffle in aid of the Exeter Chiefs Foundation
Delicious Gourmet Dinner prepared by our esteemed Head Chef
Live Music to finish the night.
Its going to be a night to remember, make sure you book a table today.
One Table of 10 is priced at £700