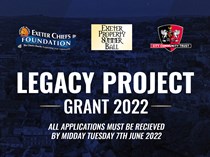 About
The Exeter Property Summer Ball, The Exeter Chiefs Foundation and Exeter City Community Trust have teamed together to offer a unique opportunity to a local project(s) to assist in funding capital projects by means of a Legacy Project Grant. The aim of the grant is to assist in backing an existing organisations project fund to help them achieve and complete said project, that in turn would help many and have a lasting legacy for those in and around the city.
This opportunity has been created in order to find a landmark project, or a variety of projects from the organisations and groups around the city to encourage the development and outreach of the cause that will be completed today and benefit generations to come.
You do not need to be a registered charity to apply, however you do need to prove the resources available to you, and provide financial accounts to show the project to be legitimate and worthy. The maximum available to apply for is £150,000 in funding.
Guidelines for Funding
The project must be located within the Greater Exeter area and must enhance the local area and the local community within it.
The project must be tangible (i.e. for building costs, equipment or something that can be used again and again, to benefit many people rather than paying for man hours or training)
The project must be achievable with the total of the monies already available plus the requested match funds.
The project must be seeking at least £25,000 from the £150,000 of funds available.
The project must be able to demonstrate at least one of the following aims to assist the community in enhancing the future prosperity of the area:- Relief of poverty, the advancement of education, (including training for employment or work), the care of the elderly, sick or infirm, the support of disadvantaged children and families, the promotion of physical, intellectual, social and spiritual well-being of individuals, and any other charitable purpose for the benefit of the community within the area of Exeter, East-Devon and Mid-Devon.
Deadline
All applications must be received by Midday Tuesday 7th June 2022.