Will's Woodland benefit from Foundation grant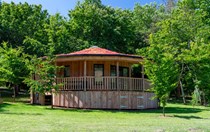 By Mark Stevens
3/8/22
Funds from the Exeter Chiefs Foundation are to be used to help create a new retreat here in Devon for families on a childhood cancer journey.
'Will's Woodland' is a new eco-lodge (roundhouse) located in woodland in Cadeleigh, near Tiverton, which will provide a family of five all-year comfort, warmth and safety required of patients in treatment.
The lodge is situated in a secluded six-acre area that families will have full and sole access to for free during their stay.
Key to its creation is the fact that children who are undergoing treatment are highly unlikely to take a normal holiday where infection risk is caused by other holidaymakers.
The building of the new lodge is through the charity 'Little Hero' which was set-up by John and Lee-Ann Rainsbury following the tragic loss of their six-year-old son Will in 2019 following a nine-month battle with an aggressive version of a brain tumour called Medulloblastoma.
The aims of the charity are:
To fund critically needed research into new treatments for childhood brain tumours
To support other families facing a childhood cancer diagnosis
Already the charity has raised in the region of £200,000 in support of these aims since launch, but now the £15,000 donation from the Exeter Chiefs Foundation is to be used towards the £90,000 cost of creating the new eco-lodge.
Keiron Northcott, Trustee of the Exeter Chiefs Foundation, said: "As Trustees, we are delighted to help provide the £15,000 deficit to help complete the Will's Woodland project. In what was a detailed application, it was obvious the huge benefits this would bring to some many different families who will use the facility.
"Having that safe and sheltered accommodation available all year round will help provide real relief from the intense pressure of cancer and its treatment. We wish Will's Woodland every success moving forward."
John Rainsbury from Will's Woodland added: "This simply could not have happened without the generosity of our donors including significant support from the Exeter Chiefs Foundation. We are now open and ready to welcome families to stay. Thank you very much."