Exeter Chiefs Foundation Benevolent Fund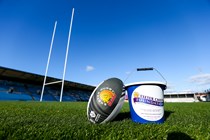 The Exeter Chiefs Foundation has established a new benevolent fund to financially assist past players in times of need, hardship or personal distress.
This fund has been specifically set up by the Trustees to assist former Exeter Rugby Club players.
Helping our own is part of the ethos of not only the Exeter Chiefs, but also the Foundation, which was founded on that principle.
Since launching ten years ago, the Foundation has supported hundreds of projects within the local community, but the Trustees felt something specific should be set up to help those individuals who have helped to make the Chiefs the force to be reckoned with it is today.
As a result, if you have ever been a player with the senior team at Exeter Rugby Club, for one full season or more, at whatever point in time that may have been – you will be eligible.
All we ask is that any applications are to fund something specific, whether that be specialised equipment, medical or legal costs, or other professional help.
Please note that the fund does not sponsor individuals for fundraising events. This fund has been set up to assist with one-off claims. If ongoing support is required, this may not be something we can assist with.
If you have any further questions, or would like to receive an application form - please do not hesitate to contact our Charity Secretary Aimee Arscott at aimee@exeterchiefsfoundation.org.uk who will be able to assist.