A new car for Vranch House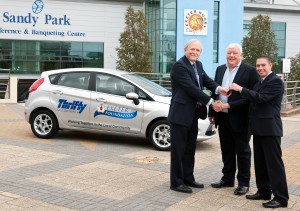 'Making the difference' is the motto of Exeter-based Vranch House and today's presentation of a new car to the Independent Day School for children with significant physical difficulties will do just that say officials.
As one of 17 charities that fall under the umbrella of the Exeter Foundation, Vranch House benefit from monies raised through the Foundation, which was set up in 2010 by some of Exeter's top names in business and sport who joined together to support key projects across the region.
Already over £150,000 has been raised by the Foundation, who along with Thrifty Car & Van Rental and GK Signs, have joined together to provide the new vehicle which was officially handed over at a special presentation at Sandy Park, home of the Exeter Chiefs.
"We are extremely grateful to the Exeter Foundation & Thrifty for giving us this car," said Colonel Graeme Wheeler, Chief Executive of Vranch House. "Our out-patient caseload has now grown to nearly 2,000 and most of these are seen in schools, homes and health centres throughout the county.
"We have been commissioned to provide two new services; one assessing children for specialist wheelchairs and providing them and another to assess children with complex communication difficulties for specialist augmentative communication equipment.  With the increased caseload our two existing cars are often completely booked for weeks in advance and staff are having to use their own cars.
"This is not the most economical way to travel, so a third car will help to get our staff to the children more efficiently.  The charity has recently been highly scored by the NHS for the quality and speed of service delivery and this is a record we are keen to maintain."
Vranch House School provides unique learning opportunities for children aged 2 to 12 with significant physical difficulties. Educational and clinical work is integrated in a curriculum developed specifically to meet the challenges these children face both now and in the future.
The physical difficulties might arise from a number of clinical causes such as spina bifida and head injuries, but the majority result from cerebral palsy.
The main components of the integrated programme of work are teaching, physiotherapy and speech and language therapy. Regular paediatric clinics are held at Vranch House for children attending the school and centre.
Much of the money raised by the Exeter Foundation comes from collections made at all home games at the Exeter Chiefs, whose chairman and chief executive Tony Rowe is also a Foundation trustee.
He said: "The Exeter Foundation are extremely pleased to have been given the opportunity to provide jointly with Thrifty, this new vehicle for Vranch House. As an organisation we are aware just how much this car will mean to the staff at Vranch House, as well as helping their already outstanding service of care they provide."
Nigel Spokes, Chairman of Thrifty Car & Van Rental, added: "Thrifty is delighted to support the Exeter Foundation in its fundraising for the local Exeter area. As a company Thrifty takes its social responsibility seriously and recognises that we do not exist in isolation and we are part of a wider local community. We work with many like-minded local businesses including GK Signs who provided the sign writing for this vehicle."
Pictures supplied by Pinnacle Photo Agency