CCANW Education and Community Dome Launch
The Exeter Foundation is p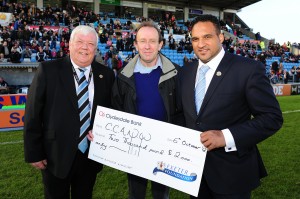 roud to be supporting yet another local charity in the Exeter area. The foundation has recently pledged its support to The Centre for Contemporary Art and the Natural World (CCANW) concerning the construction of their Education and Community Dome located in Haldon Forest Park.
The CCANW is an organisation that raises monies for exhibitions, artist-led projects and educational activities that reach out across the art forms and other disciplines to address the urgent social, environment and scientific issues that concern us all today. The dome therefore provides a much needed all-weather structure for educational visits, workshops and displays. It can also be booked by the public, businesses and other organisations.
On Saturday 6
th
October, the Exeter Foundation was thrilled to welcome Clive Adams, Director of CCANW, to the Exeter Chief Rugby Club at Sandy Park to receive a cheque for £2000 during the half-time proceedings of the day's game. This was presented by the foundation's Chairman Tony Rowe OBE and trustee Michael Caines MBE.
The grand opening of the Education and Community Dome took place a day later with the launch of an extraordinary international video and photography exhibition that showcased what a difference The Dome will make to education and the community, as it will allow many more people to enjoy the events and workshops they run throughout the year, whatever the weather.
 "We held a successful launch for our new exhibition and our geodesic dome with over 100 members, friends and visitors attending." said Chris Lewis, Marketing and Development Manager. "It was exciting to see the Dome used as an exhibition space for the first time, and n told us they enjoyed seeing the different painted interpretations of the forest landscape in a space that was so connected its environment. We greatly appreciate the support of the Exeter Foundation."
There was something for everyone, whether you were viewing the gallery work or trying your hand at games that provoked critical reflection, including 'Phone Story,' the game that highlights the troubling global supply chain as you became complicit in funding violent conflict in the Congo.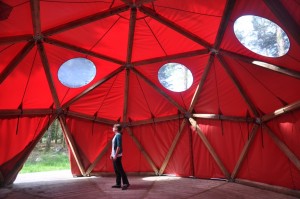 "We were looking for an eco-friendly solution to extend our space here in the forest," said Clive Adams, Director of CCANW. "So it had to be sustainable and made from locally sourced materials; a geodesic dome seemed like the perfect answer. We are so pleased to have the support of the Exeter Foundation in this project."
Top picture to be accredited to Pinnacle Photo Agency and Exeter Rugby Club