'Chiefs Burger' created to raise monies for the Exeter Foundation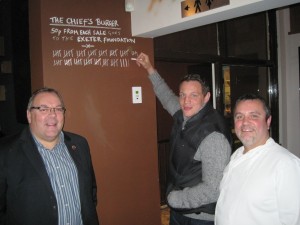 In support of the Exeter Foundation and with help from members of the Exeter Chiefs squad, Urban Burger owners Garth and Melissa Pearse have created a specially made mouth-watering 'Chiefs Burger' which donates 50p to the Foundation for every order.
Foundation Trustee Keiron Northcott attended the unveiling of the 'Chiefs Burger' along with some of the Chiefs players at Urban Burger which is located in Queen Street, Exeter. The delicious burger that consists of two 6oz prime Red Ruby Devon beef patties, bacon, fried onions, mayo and two slices of American cheese, has been especially created for the Exeter Foundation for the benefit of the local organisations and charities it supports.
Set up in 2010, the Foundation has already been hugely successful raising in excess of £230,000 for local projects and charities including North and East Devon Prostate Support Association; Exeter Samaritans; Children's Hospice Southwest; Dream-a-Way; Exeter Lions; Exeter Youth Section; Families for Children; FORCE; Hospiscare; Ellen Tinkham; Richard's Wish; Vranch House; Wooden Spoon; Age UK Exeter; the C Group; Exeter Paediatric Oncology; Exeter Foodbank and the Motor Neurone Disease Association.
Owner Garth says he is delighted to be supporting the Foundation, stating: 'For a number of years we have given donations to FORCE, which is one of the Foundation Charities, but if we felt if it donated through the Chiefs Burger not only FORCE would benefit, but so too would a number of other charities around the city.'
Foundation Trustee Keiron said, 'we really thank Garth and his team for supporting the Foundation in this way, the help of local businesses like this really reinforces our aims of supporting many local charities within Exeter and surrounding areas.'