Chiefs Cycling Group Back in the Saddle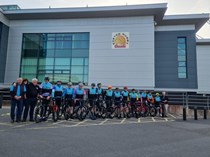 By Jack Lewis
06/05/22
It was wonderful to see the Exeter Chiefs Cycling Group once again don their lycra and head out across the British Isles in support of the Exeter Chiefs Foundation.
This time, it was a trip across the Irish Sea to Limerick to watch the Chiefs European Champions Cup fixture against Munster, and despite the result, it was a wonderful trip for everyone involved.
Setting out from Sandy Park, there were 460 miles to cover, heading up from Devon, across Wales, before making the crossing to Southern Ireland where they took in the spectacular Ring of Kerry on route to Thomand Park. It took just five days to make the journey, and with a support team led by the foundations own Chairman, Tony Rowe OBE, they were well looked after at all points along the route.
On arrival, the reception from the Munster faithful was typically fantastic, where the Chiefs Cyclsts presented them with cycling jersey signed by the whole Chiefs squad.
Most importantly they managed to raise a truly fantastic £12,000 for the Exeter Chiefs Foundation, a remarkable sum of money that will be used to support the fantastic Charities and Projects which the Foundation represents.
The Foundation would like to say a massive thank you to everyone involved for their hard work, and to anyone who donated along the way.It will be wonderful to see the Cyclists back in the saddle in the not too distant future.