Devon Sports Awards Winners Revealed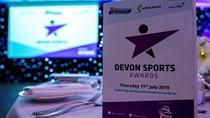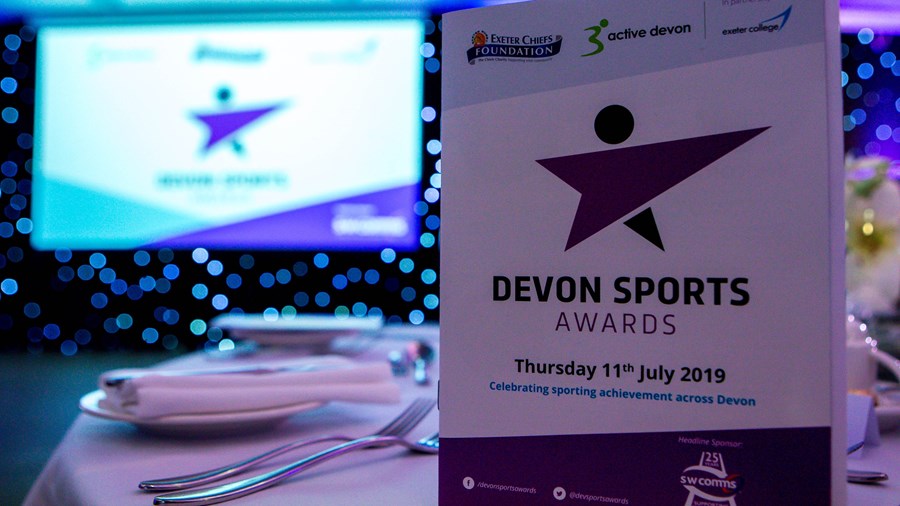 Another year of sporting excellence in Devon was celebrated in all its glory at a glittering awards ceremony held in Exeter.
Bringing together the cream of Devon's sporting talent under one roof, the Devon Sports Awards - run in partnership with the Exeter Chiefs Foundation, Active Devon and Exeter College - once again acknowledged the outstanding contribution of coaches, clubs, volunteers and sportsmen and women from across the county.
Underlining the work that goes on - not just at the very top end of sport in Devon, but also at grassroots level as well, the evening was heralded a great success with every award nominee being highlighted for their efforts over the past 12 months.
Hosted by BBC Spotlight presenter Jenny Walrond, the evening also included an inspiring talk by Kate Salmon, who was one of the four women who completed the 3,000 mile row across the Atlantic in aid of Row For The Ocean, as well as a special Q&A session with Exeter Chiefs Director of Rugby, Rob Baxter.
Exeter Chiefs Foundation deputy chairman Keiron Northcott said: "It has been so encouraging to see the various achievements across Devon and I hope the recognition and appreciation of the many individuals and clubs will play a part in inspiring others to participate in local sport and strive to be the best they possibly can in order to further the accomplishment and reputation of the county as a whole.
"I would like to personally thank all of the nominees and nominators who helped to make the awards such a success. I hope it is the first of many collaborations."
Active Devon Chief Executive Matt Evans said: "We are very proud of the Devon Sports Awards, which we started 22 years ago and now have the help of the Exeter Chiefs Foundation and Exeter College. They continue to provide a wonderful opportunity to celebrate the tireless hard work and dedication of coaches, officials, volunteers and clubs that make sport happen across our wonderful county as well as the fantastic achievements of our teams and individual athletes, both in community and elite sport."
John Laramy, Principal and Chief Executive of Exeter College, added: "Exeter College is focused on delivering exceptional teaching, learning and training. As part of this vision, we are truly committed to supporting programmes that bring together high-quality education and sporting excellence.
"We are also committed to supporting the Sport England local delivery pilot and have a track record of investing in the future of sport over the long term."
AWARD WINNERS
Devon Young Coach of the Year, sponsored by Exeter College: Cody Levell, Totnes & Dartington Disability Football
Devon Coach of the Year, sponsored by swcomms: James Lake, Tavistock Swimming Club
Devon Young Volunteer of the Year, sponsored by Exeter College: Beth Groves, St Budeaux Tennis Club
Devon Volunteer of the Year, sponsored by BBC Radio Devon: Rex Meredith, Castle Inn Rowers
Workplace Activity Champion, sponsored by Girling Jones: Charlotte Gill, Livewell Southwest
Performances in Community Sport, sponsored by Lympstone Manor:
Ashmoor Hockey Club
Bryony Frost
Dawlish Ladies Football Club U18s
City of Plymouth Trampoline & Gymnastics Club
Tilly Robinson, Westcountry Hawks
Contribution to Inclusive Sport, sponsored by Active Devon: Living Options - Deaf Get Active and Volunteer
Business Contribution to Sport in the Community, sponsored by Lloyd Barnes: Exeter City Community Trust
Business Contribution to Staff Wellbeing Through Sporting Activity, sponsored by Midas Group: Axminster Tool and Machinery
Devon Club of the Year, sponsored by swcomms: Axe Vale Netball Club
Outstanding Contribution to Sport in Devon, sponsored by Exeter Chiefs Foundation: Cody Levell - Totnes & Dartington Disability Football