The Eastside Outdoor Club: 13/05/11 – 14/05/11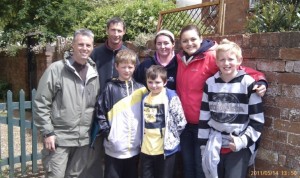 The Exeter Foundation recently helped the Eastside Outdoor club with acquiring camping equipment for ongoing use. They have written the following account of their monthly camping trip:
In an attempt to engage with the young people of Exeter we have established a monthly camping trip called the Eastside Outdoor Club. Identified youngsters can get away from their estates and experience the varied and beautiful countryside around this part of Devon. By learning outdoor skills and using public transport we hope we can contribute to their social development, broaden their horizons, increase their confidence and encourage a constructive adulthood.
Our first adventure
The group comprising of PCSO Percy Giles, PCSO Jenelle-Levi Green and five young people met at 5pm on Friday 13th May at Exeter Bus Station. PCSO Nic Unsworth travelled by car. We travelled together on the 57 Stagecoach Service to Exmouth then walked on the old railway path to Pooh Cottage Camp Site nr Budleigh Salterton. See
http://www.poohcottage.co.uk
.
After pitching our tents we walked into Budleigh and went to the famous fish and chip shop for supper which we enjoyed on the beach. On our way back we shopped at the local Spar for breakfast. Back at the campsite at approximately 10pm we settled down for the night however In the early hours I heard an unpleasant sound, one of the lads was being sick. The leaders soon made him comfortable, a clean sleeping bag, clean clothes and some tlc did the trick (or so we thought). At 5am the sun was shining the birds were singing basically there was no chance of the group settling down again, we were up! By 7am the young lad was sick again and clearly in distress therefore we decided to ring his mum and take him home.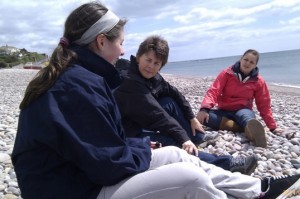 The rest of the group enjoyed a breakfast prepared by themselves of bacon, sausages and bread. After packing away our camping equipment it was back to Budleigh for icecreams by the sea. Because we were down a member of the group we were able to provide a lift home for the young people in our car arriving home about 3pm Saturday afternoon. The young people themselves thoroughly enjoyed their adventure and we hope that it has demonstrated that opportunities exist close to home to make more of their lives. The parents expressed their gratitude to us on the return of their young ones.
I believe this type of engagement is vital in some of the more deprived areas here in Exeter. It gives young people who are disadvantaged through no fault of their own the opportunity to experience team work, new friends, the great outdoors, camping and a good relationship with the local police.