Everys Solicitors tee up support for Exeter Foundation golf event
Everys Solicitors has signed up as the main sponsor of the Exeter Foundation Charity Golf Day that is being also being supported by Exeter Chiefs.
The event will take place on 20th June at the East Devon Golf Club near Everys' Budleigh Salterton branch.
Exeter Chiefs has supported the event by offering its players as members of the competing teams as part of the club's continued commitment to the civic trust work of the Exeter Foundation.
Bruce Brooker, commercial director of Everys Solicitors, said: "As a sponsor of Exeter Chiefs, we were approached to sponsor the golf day in support of the Exeter Foundation. We were delighted to oblige by lending our support to this worthy charity and to be involved in an event that w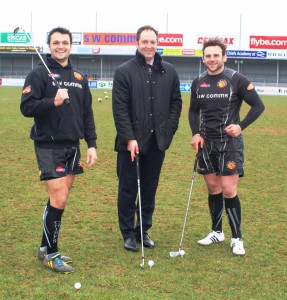 ill no doubt see us meet up with some of our Budleigh Salterton clients."
For more information on Everys Solicitors, please call Caroline Moore on 07703 322268 or on the Exeter Chiefs Golf Day, please call John Wood on 01392 890890.
(From left: Phil Dollman, Bruce Brooker, Chris Whitehead)