Exeter Business Games raises £5,400 for Exeter Foundation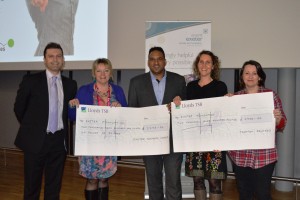 - L-R, Wayne Chamberlain, Event Exeter, Debbi Moore, Exeter Business Games, Michael Caines, Exeter Foundation Trustee, Annette Grahns and Cath Jones, Thomson Reuters.
Participants of the Exeter Business Games 2012 have donated over £5,400 to Exeter Chiefs inspired charity, the Exeter Foundation.
The total was presented to TV chef and Exeter Foundation Trustee Michael Caines at the recent launch event for the Exeter Business Games 2013.
After receiving the cheque, Mr Caines said: "On behalf of the Exeter Foundation I would like to extend my thanks to all the companies, employees and supporters of the Exeter Business games.  Your generosity and participation in the games has helped many local projects."
25 teams from Exeter-based business took part in the 2012 games and between them raised £2,735.84. Thomson Reuters very generously matched the funding by donating £2,700; bringing the total to £5,435.84.
Annette Grahns, of Thomson Reuters, said: "Everyone from Thomson Reuters who takes part in the Business Games absolutely loves it and we felt that matching the donations from everyone else was an apt gesture."
The Exeter Business Games take place during May and June, promoting networking and employee participation, while raising funds for the Exeter Foundation.
Debbi Moore, Exeter Business Games co-ordinator, enthused: "The 2012 Games were the most successful so far, and we couldn't have done it without the enthusiasm, commitment and interest from the competing teams."
"Raising money for the Exeter Foundation is a perfect fit with the ethos of the Business Games, with its focus on supporting initiatives in the Exeter region. We know that the money raised will go to a worthwhile cause."
The Exeter Foundation supports local projects and organisations within the greater Exeter area to enhance the lives and surroundings of the people that live and work within it. The Foundation aims to ensure that supporters are able to raise money in the area, for the area.
The Foundation is to be used as a medium to promote responsibility for the future prosperity of Exeter, a vehicle for collective civic pride.  More information about the Exeter Foundation can be found at
www.exeterfoundation.org.uk
.
Applications for the Exeter Business Games 2013 are still welcome. For more information on the Games, or to apply, please visit the official website
www.exeterbusinessgames.co.uk
.
News story released by the Exeter Business Games