Exeter Chiefs Foundation provides funding for new Freedomwheels vehicle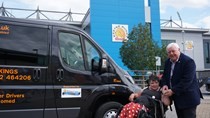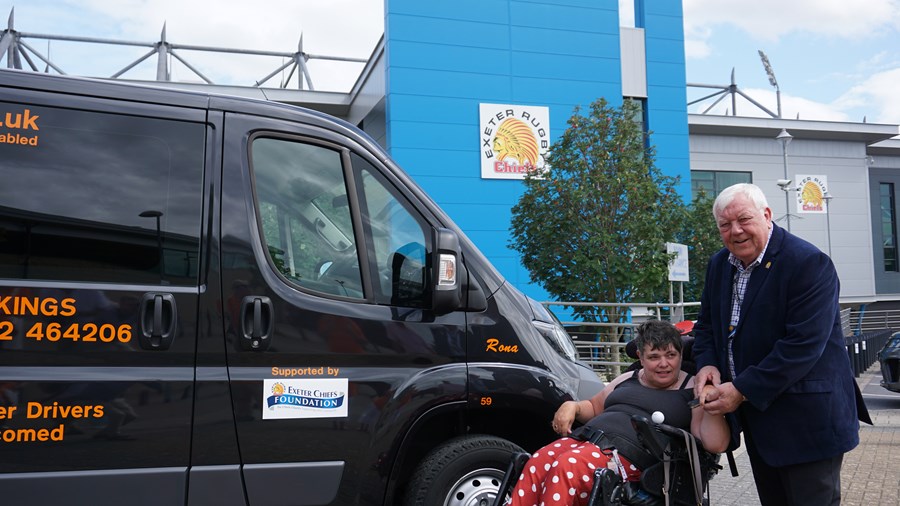 The charity of the Exeter Chiefs, the Exeter Chiefs Foundation, has helped Freedomwheels to purchase another vehicle.
Established in 1981, Freedomwheels is an Exeter-based specialist disabled transport charity which provides transport services for the elderly and disabled. In recent years, requests for the service have increased and so to help meet demand, a new specially adapted vehicle with a wheelchair tail lift has been purchased.
The vehicle was handed over to the Chairman of Freemdomwheels, John Austin, on Monday 5th August at a ceremony at Sandy Park.
In recognition of one of Freedomwheels most loyal customers, the vehicle has been named 'Rona'. Wheelchair-bound Rona O'Donnell relies on Freedomwheels for regular transport from her home at Lifeways in central Exeter to day centres, and to her weekly evening wheelchair dancing class.
Speaking about the grant from the Exeter Chiefs Foundation, John Austin said: "Without the generosity of the Exeter Chiefs Foundation, Freedomwheels would not have been in a position to purchase this vehicle for some time.
"It will be used to support our existing fleet of four vehicles, adding extra flexibility to the service. The new vehicle will be able to transport up to two wheelchairs and two seated passengers, or five seated passengers. I'm sure Rona will insist on using it whenever possible!"
Chairman of the Exeter Chiefs Foundation, Tony Rowe OBE, said: "the new vehicle will allow Freedomwheels to extend their already fantastic offer. The Exeter Chiefs Foundation were happy to be able to support such a worthy organisation."