Exeter Foundation computer boost for brain injured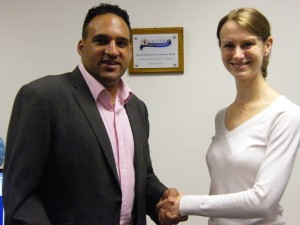 The Foundation, which supports a range of charities in the Exeter area,   made a donation towards Headway Devon's day centre in Exeter, enabling the charity to invest in a brand new computer hub for the use of the people with brain injuries who attend the centre. The computer hub, which was opened on Monday by Michael Caines MBE, highly acclaimed chef and Trustee of the Exeter Foundation, consists of three desktop computers, a laptop for those with mobility difficulties, and a printer, as well as new desks and chairs.
Headway's Exeter Centre Manager, Natalie Clapshaw, said, " We are very grateful to the Exeter Foundation for making this new computer hub possible and we were delighted that Michael was able to take time out of his very busy schedule to attend the hub's opening, meet our clients and tell us more about the Exeter Foundation.
"Headway Devon is not a big charity and we rely on the generosity of our supporters to enable us to offer a varied programme of activities to our clients. These computers will be hugely valuable for the people we work with, helping them to improve their IT skills, take part in brain training games, and research volunteering opportunities, amongst many other things."
Trustee, Michael Caines MBE was thrilled to be asked to open the computer hub, adding "On behalf of the Foundation it is an honour to officially present the computers to the charity.  I am touched and inspired by the work they do for the community.  This is exactly the type of project the Foundation seeks to support and provide funds for."
The computer hub is now up and running and Headway clients are looking forward to getting to grips with the new machines and trying out new activities.  Undoubtedly having such resource readily available to the clients will mean further learning will be just a click away.
Headway Devon supports people who are living with the effects of an acquired brain injury. If you think you know someone who has been affected by brain injury and who may benefit from Headway's help, please call us on 01392 211822, email
holly@headwaydevon.org.uk
or visit our website at
www.headwaydevon.org.uk
.