New Van for Families for Children Atrium Project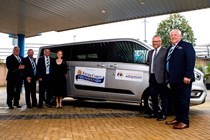 The Exeter Chiefs Foundation recently granted Specialist Voluntary Adoption Agency, Families for Children, £10,000 towards a new vehicle.
The eight-seater vehicle is primarily for use at their Atrium, to transport some of the charities' most disadvantaged, adopted children to and from various activities, respite breaks, and therapeutic sessions across Devon.
Formed nearly two years ago, Families for Children's Atrium is the first Centre of Excellence in Adoption Support Services. The services the Atrium can provide include multi-disciplinary assessments, a variety of therapeutic and clinical services, education and support to schools, training for adopters and a wraparound service offering telephone support for guidance, advice and referral for adoption support, telephone counselling, peer support groups, activities and summer camps for children and family days.
Families for Children have identified that many of their adopters face rural isolation and loneliness and this prevents many from attending support groups, respite activities and therapy sessions. All of their children have faced various forms of trauma, abuse and neglect and need parenting in a therapeutic way and require a tailor-made recovery plan for them to thrive. To purchase this vehicle meant that the charity will be able to reach out to families that need support before they reach crisis point and allow them to transport children and families to various support groups, workshops and activities to aid their mental health. The vehicle will be travelling across Devon weekly.
Chairman of the Exeter Chiefs Foundation, Tony Rowe OBE, said: "Families for Children is an organisation we have worked with for many years. It's great to be able to support the Atrium with this funding towards this new vehicle, which we know will enhance the already fantastic services being offered. We look forward to seeing the vehicle on Devon's roads!"