Foundation grant will help new service during virus outbreak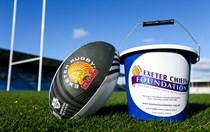 By Mark Stevens
27/3/20
The Exeter Chiefs Foundation are today granting a six-figure sum to help back a new support service which has been launched in the city to help people through the current coronavirus outbreak.
Exeter Community Wellbeing – which has been set up by Exeter City Council and Wellbeing Exeter – will offer help and support to communities, including those individuals who are self-isolating as a result of the virus.
As part of its commitment to help the city during these unprecedented times, the Exeter Chiefs Foundation, the official charity of the Exeter Chiefs, have today pledged £100,000 into the new community action fund.
Working alongside Exeter City Council, the new fund will enable community groups and organisations to get rapid access to small grants to allow them to work on local projects to support those people and communities most affected by the pandemic.
Tony Rowe OBE, Chairman of the Exeter Chiefs Foundation added: "None of us really know what is about to hit us over the coming days and weeks, but as trustees of the Foundation we felt we needed to play our part and offer as much support as we could to this new service.
"Exeter Chiefs considers itself very much at the heart of the community locally and this is our way of giving back to that same community who give so much to us in return during these very tough times."
A call centre has been set up and a website and telephone hotlines established to gather information from people and organisations who want to offer their help and support to the community response.
The service will be able to co-ordinate practical support for those being advised by the NHS to stay at home for 12 weeks and apart from their family members.
Exeter Community Wellbeing want to hear from the following:
Individuals, community groups or networks who would like to offer activities or support
Community groups supporting people in relation to Coronavirus who would like information, advice, resources or funding
Community organisations offering staffing or other resources
Individuals, families, organisations or companies offering help and resources
Residents who would like practical support because they are self-isolating because of coronavirus
Anyone caring for or aware of someone, who would benefit from practical support because of coronavirus
To get involved people need to go to www.exeter.gov.uk/wellbeing where a simple on line form can be completed. Those unable to go online can call 01392 265000 between the hours of 9am to 5pm Monday to Friday and 9am and 12 noon on Saturdays and Sundays.