Foundation Supports New Project
It is with great pleasure to announce that we are supporting the Centre for Contemporary Art and the Natural World (CCANW) with the development of their new Education and Community Dome project.
CCANW is a pioneering Arts & Ecology charity which explores urgent environment issues through the Arts. It opened in 2006 based in Haldon Forest Park and is the only organisation of its kind in the UK with dedicated year-round themed programmes including art exhibitions, workshops, events and activities that do not just explore and reveal existing ecological issues and their causes, but also suggest viable and sustainable alternatives. CCANW is also a hub linking communities, national and international arts, ecology and education networks, schools, universities, businesses and professional bodies.
The Exeter Foundation felt that this project not only benefited the local community in the immediate, but will be a long standing structure that would bring enjoyment to future generations, allowing them to explore and learn outside their usual educational environment.
When asked, Trustee Bruce Priday explained why the board decided to support the project. "The Exeter Foundation is a civic trust that has a firm eye on young people, the Exeter environment and education. The dome project absolutely fits the bill as to what the Foundation is all about."
CCANW are constructing a bespoke 24ft canvas-covered geodesic education dome located close to the main Haldon Forest Park hub. It will primarily be used for seminars and activities as part of a busy education programme with schools, community and disadvantaged groups.
CCANW's 2012 /13 Games People Play programme explores what games can tell us about 'human nature'; and how a deeper understanding of the advantages of cooperation can help us all to address the needs of the planet at this time.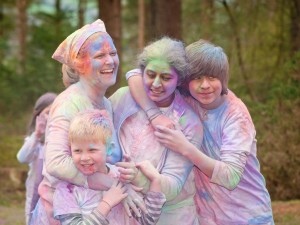 The above picture shows one of the activities CCANW carried out earlier in the year. In April 2012 they hosted a fun and very colourful celebration of the Holi Spring Festival which is based on the old Indian legend of Holika and Prahlad and involved much paint throwing in the forest. This is one of the many arts and ecology related events and activities CCANW organises alongside exhibitions in its Project Space in Haldon Forest Park to benefit local communities and visitors of all ages.
For more information about the work CCANW do please see their website (
www.ccanw.co.uk
).