Foundation XV Members announced for the upcoming season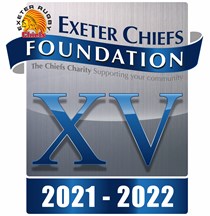 The Exeter Chiefs Foundation are pleased to announce this season's Foundation XV members. These 15 prominent Exeter-based businesses have all pledged to support the Exeter Chiefs Foundation by raising and donating a minimum of £1,500 each for the current 2021/22 season.
The 'Foundation XV' is an initiative that has gone from strength to strength and officially recognises and promotes businesses who support and raise money for the Foundation. To date Foundation XV members have raised in excess of £200,000.
Keiron Northcott, Trustee of the Exeter Foundation said: "The Foundation XV is a way for us to formally acknowledge the fundraising that local businesses do for us. We are thrilled to have such well-known companies around the city pledging their support to the Exeter Foundation. The Foundation XV members have raised an unbelievable amount of money for the Exeter Chiefs Foundation over the years, which we greatly appreciate.
The Foundation supports many local organisations, charities and projects in and around the city – all of which is made possible with support of local companies and individuals."
The members of the Foundation XV 2021/22 season are:
Barratt Homes
BPA
Lloyd Barnes
Lympstone Manor
Mitie
Northcott Beaton
Packexe
Progressive Systems
RGB
SW Comms
Santander
Smart Build Supplies
The Outdoor Group
Thompson Jenner
Typhoon Associates
The Foundation XV is renewed each season. For more information on how to get involved please email