Golf Day raises £6,000 for Foundation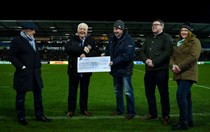 By Mark Stevens
19/1/22
Friends and family of the late Ian Stewart took to the pitch at Sandy Park on Saturday to hand over a cheque for £6,000 to Exeter Chiefs Foundation chairman, Tony Rowe OBE.
The money was raised from a special Golf Day held at Woodbury Golf and Country Club in aid of Stewart, who passed away in October 2020 at the age of 53.
The former full-back - who was nicknamed 'Danger' by his former County Ground team-mates - had been battling cancer for more than two years.
It was the brainchild of his lovely wife Nicola and his best mate Graeme May to hold a Golf Day in his memory in October 2021 and to donate any funds received to the charity of his choice which was The Exeter Chiefs Foundation. 
It bears testament to the popularity of our dear friend that the event was oversubscribed for teams on the day and thanks to the generosity of all who attended.