Heineken donate £1300 to the Exeter Chiefs Foundation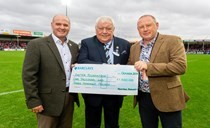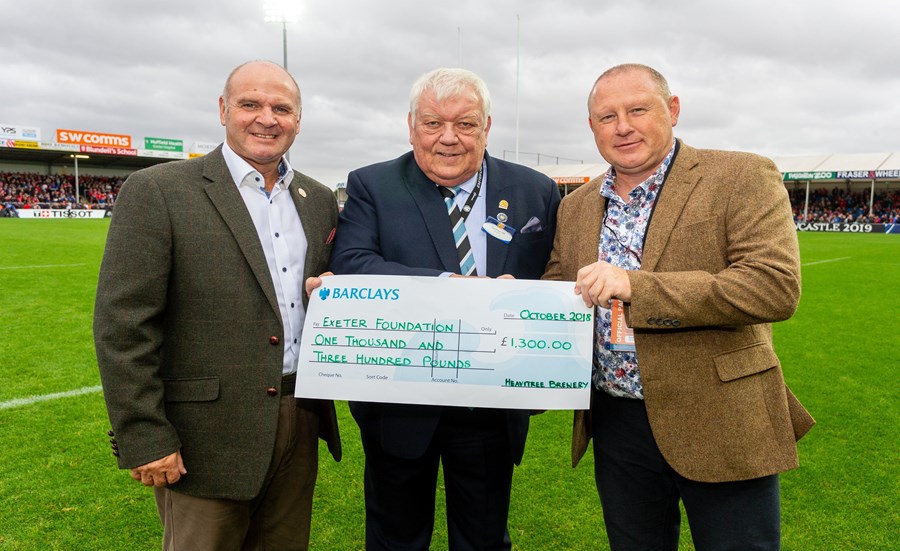 A cheque for £1300 was presented to Exeter Chiefs Foundation Chairman, Tony Rowe, at the Exeter Chiefs vs Munster game, raised through a promotion on Heineken brands at Heavitree Estate outlets.
Keith Benton from Heineken and Terry Wheatley from Heavitree joined Tony on the pitch to present the funds, which were raised earlier this year where customers purchasing Heineken draught brands (Heineken, Amstel, Fosters, Smith, Strongbow Cloudy Apple etc.) had the opportunity to win match day tickets through an in-house draw. Ten pence for every pint sold was then donated to the Exeter Chiefs Foundation.
Keith Benton, Multiple Account Manager for Heineken UK Ltd along with Terry Wheatley Sales Director for Heavitree Brewery said: "we are both delighted to be able to hand over a cheque to the value of £1,300 to the Exeter Chiefs Foundation. Heineken have a very good relationship with the club, and really like what the charity promotes and that it supports so many local causes. We will be running the activity again in many local Heavitree Estate outlets again this season, and hope to be able to raise even more funds."
David Bird, Trustee of the Exeter Chiefs Foundation said: "We are hugely appreciative of all support from local businesses and very grateful to Heineken and Heavitree Estates for putting this on for their customers. This money will go into our 'undesignated' pot, from which local organisations and projects can apply for grants."
For more information about applying for funds, please click here.