Exeter Chiefs Foundation Support Hospital Radio Exeter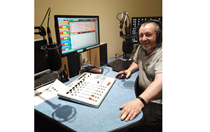 Hospital Radio Exeter has benefitted to the tune of just over £9,500 thanks to a grant from the Exeter Chiefs Foundation.
The money will enable the station team to update their playout system and provide an opportunity to develop and expand the service in the future.
Hospital Radio Exeter is run by a group of enthusiastic volunteers and has been broadcasting to patients at the Royal Devon & Exeter Hospital for more than 40 years.
Even during the pandemic, members have been continuing to produce programmes from home while Covid restrictions prevented the use of their studio.
Malcolm Mardon, Chairman of the station said: "With the help of modern technology, we are able to broadcast 24/7 despite many of our members having full-time day jobs. Patients can listen directly in the hospital or tune in to our online broadcasting.
"It has been found that hospital radio reduces the isolation of some listeners and can promote a sense of community. We offer a wide range of programmes including public interest interviews from the community in Devon and far beyond. We also produce some specialist programmes and, recently, one of our home presenters picked up a gold medal at the National Hospital Broadcasting awards for a Halloween special.

"With this donation from the Exeter Chiefs Foundation we can now update our playout system and hopefully develop and expand our service in the future. The new system we can now install will allow members to voice track programmes and speed up production work from home and in the studio. Not only will this help now but also in the future if we are ever in lockdown again."
Exeter Chiefs Foundation trustee Marc Astley said: "The Hospital Radio Exeter team do a fantastic job and we were only too pleased to be able to help with the upgrade of their equipment.
"Thanks to our generous fans and supporters, we have raised more than £2 million pounds in the past 10 years, and this is the latest in a long line of worthy recipients of that cash."
Hospital Radio can be heard on Channel One on the Hospedia TV sets on the bedsides (free), on the internet www.hospitaradoexeter.comand is also available on the Radioline App
Request shows weekdays from 8pm - please make a request for your patient and listen to it at home! requestshow@aol.com
Hospital Radio Exeter is a charity and manned entirely by volunteers. To keep the service running any donations gratefully received by using Donate button on our website.