Charity set up in memory of 28-year-old dad helped to buy new vehicle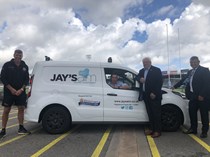 Crucial charity work which aims to reduce the number of young people who die of sudden cardiac death in the South West of England has been supported by The Exeter Chiefs Foundation.
Jay's Aim has received a donation which they used to purchase a new van to transport specialist equipment around the region.
The organisation, which was launched after 28-year-old Jay Osborne died when his heart stopped whilst on a run through Exeter on Father's Day, is on a mission to help reduce the number of young people suffering sudden cardiac death. Jay's Aim offers CPR training and has funded more than 20 defibrillators across Devon and Cornwall. Much of the equipment has been placed at schools and community sports clubs, as well as busy pedestrian areas.
Before his tragic death, Jay had recently moved to Exeter from Bude with his fiancée Sam and then seven-month-old son, Remy. His family later learned that he had an unknown hereditary heart condition, which was only diagnosed during the post mortem.
Tony Rowe OBE, Chairman of the Exeter Chiefs Foundation, said: "Jay's Aim has achieved so much in such a short period of team however, it was clear that this vehicle was desperately needed to help them continue with that great work. I know Jay was a big Exeter Chiefs fan and so it is particularly poignant that we were able to do something to help the incredible efforts that are being made in his memory."
Dan Osbourne, one of Jay's brothers and Chair of Trustees for Jays Aim, said: "The van will make a real difference by enabling our team to transport our resuscitation equipment to schools, colleges and sports clubs, as well as helping us to deliver the equipment needed to set up the public access defibrillators that we provide."
At least 12 apparently fit and healthy young people (under 35) die from undiagnosed heart conditions every single week in the UK and around 80 per cent have no prior symptoms.
Cardiac arrest is different from a heart attack and can happen to anyone, at any time, at any age, irrespective of fitness levels. A lot of these deaths could be prevented through cardiac screening, wider knowledge of CPR, and better access to defibrillators.
To find out more about Jay's Aim, please visit their website: https://www.jaysaim.co.uk/