Grand Opening of Lympstone Boxing Club Extension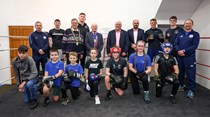 By Jack Lewis
06/05/22
After many months of hard work, the extension at Lympstone Boxing Club has been completed and was formally opened by the Chairman of the Exeter Chiefs Foundation, Tony Rowe OBE.
The project which was funded by the Exeter Chiefs Foundation alongside Sport England, has been added on to the Club's existing training facilities in the heart of Exmouth.
The vital extension has allowed for an additional Boxing Ring, along with training station and extended floor space and will allow the club to continue to grow, attracting more members and hosting larger sessions.
The funding was fought for tirelessly by Boxing Club treasurer Mike Kelsall-Spur and after the remarkable challenges presented by the pandemic over the last few years, this project marks a new beginning for everyone at Lympstone.
Tony Rowe OBE said "We have been very impressed by the hard work of everyone at Lympstone Boxing Club, ensuring that they have been able to continue to support both the boxers within their club as well as the wider community during the pandemic.
The Foundation are very pleased that they have been able to support this expansion, and we look forward to watching the club continue to grow and prosper."
Lympstone Boxing Club now boasts some of the finest boxing and fitness facilities in the South West and are well on their way to achieving their ambitions to be at the very pinnacle of English Boxing, producing champions whilst also supporting the community around them.
This sort of project is only possible, thanks to your kind donations, so please consider donating to the Exeter Chiefs Foundation so that we can continue to provide funding and support to charities and community projects in the greater Exeter area.