Patients benefit from state-of-the-art rehabilitation equipment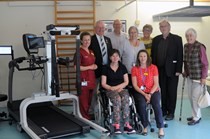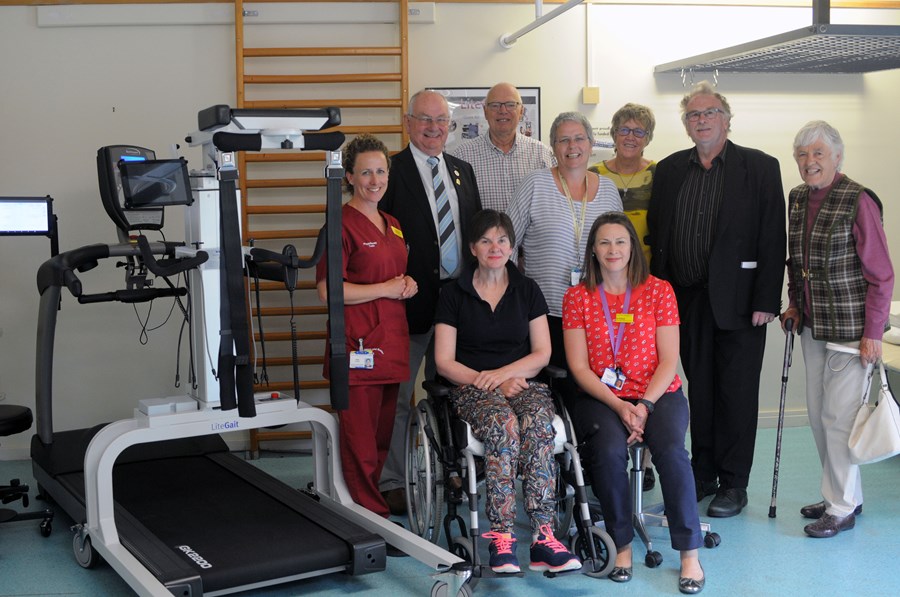 Patients at the Mardon Neuro-rehabilitation Centre at the Royal Devon and Exeter NHS Foundation Trust will benefit from specialist rehabilitation equipment, thanks to a donation from the Exeter Chiefs Foundation and Mardon League of Friends.
The donation means that patients at the Mardon centre, a 12-bedded unit in Exeter providing inpatient neuro-rehabilitation, will be able to practice walking on both the treadmill and over ground with the support of the Litegait Partial Weight-Bearing System, worth nearly £30,000.
This system allows patients to progress from no weight to full weight bearing, walking either over ground or on a treadmill, and allows the clinician to manually assist the legs and pelvis to improve gait patterns if required.
Anna Lloyd, Clinical Lead Physiotherapist, said "We are really excited to have this new equipment at Mardon, as it opens up new opportunities in gait rehabilitation for us. It can be used to increase intensity of rehabilitation, allowing people to practice walking over much longer distances than they would otherwise, and we know that practice time is really important in learning to walk again after a neurological event.
"We are hugely grateful to both the Exeter Chiefs Foundation and the Mardon League of Friends for funding this equipment and for all the fund raising work the League of Friends do for Mardon."
Penelope Moor, Mardon League of Friends Secretary, said: "We are very grateful to all our supporters for their financial help over many years."
Alan Quantick, Finance Director of Exeter Chiefs and a Trustee of the Exeter Chiefs Foundation, said: "We are delighted that we have been able to assist the Mardon Neuro-rehabilitation Centre in the acquisition of this vital piece of equipment and in so doing supporting a very worthwhile local cause."