Typhoon Associates have joined the Foundation XV for the 2020/21 season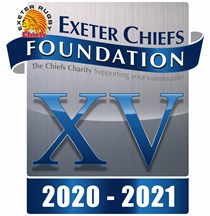 Typhoon Associates have given their support to the Foundation by joining the Foundation XV for this current the season.
Trustee Keiron Northcott said: "We'd like to extend our gratitude to Typhoon Associates for joining the Foundation XV and for pledging to raise funds for the Foundation. To have the support of local businesses such as Typhoon Associates allows the Foundation to really make an impact in the local area. All monies raised by the Foundation XV go into our 'undesignated' fund, which goes towards supporting projects and organisations throughout Exeter."
Robert Wood, Director of Typhoon Associated Ltd said; "With a passion for rugby and business excellence Typhoon Associates is proud to support and give back to the local community by being part of the Foundation XV. We look forward to doing all we can in the future to contribute to such a great local charity and the causes it supports."
The Foundation XV is a group of businesses who pledge to raise at least £1,500 for the Exeter Chiefs Foundation each rugby season. This money is then donated by the Foundation to projects and organisations in and around the City.
These non-designated funds can be applied for by local projects that are occurring within Exeter and its surrounding areas via a formal application process.
The Trustees of the Foundation welcome applications from any local project, no matter the size. All charities and organisations that are interested in applying for funding for an upcoming project can email enquiries@exeterfoundation.org.uk to request an application funds pack.