​Exeter Chiefs Foundation and local firms help community woodworking group branch out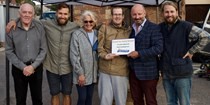 A new community woodworking group has been launched thanks to donations from generous businesses and the Exeter Chiefs Foundation. Wood for Good was originally set up as a men-only organisation but so many women asked to join that half of the initial batch of attendees were female. Because the course has been popular with both men and women – the first few sessions were fully subscribed – the project will continue to be mixed sex.
As well as teaching people new skills, Wood for Good will also provide support, mentoring and reassurance for a wide variety of vulnerable people, including the elderly, unemployed and disabled, as well as those facing challenges because of their ethnicity or mental health. Group members will be encouraged to assist others through a range of activities such as repairing garden fences and gates, making benches and bird boxes and supplying woodcraft products for local fares, or for use at home.
Adam Cobby, joint coordinator for Wood for Good, said: "Members will not only benefit from, often much needed, social interaction but also the emotional reward of achieving and gaining new skills. "They will make new friends and be offered access to further education opportunities that could enhance their future employment."
One of the female attendees on the first course said: "I had such a good time and I feel that I learnt a lot of new skills and have gained a new confidence using power tools."
The group's launch has been made possible thanks to significant contributions from The Exeter Chiefs Foundation charity, RGB Building Supplies, which has branches in Devon, Cornwall and Somerset, and New Word Timber. RGB has supplied a wide range of tools and equipment, New World Timber the raw materials and the Foundation made a £1,000 contribution to go towards other costs.
Other organisations and companies who have made donations include: The Devon Highwaymen Bikers, based in Exeter; The Wetherspoons Foundation, in association with the Carling Made Local Fund; Exeter City Council, Devon County Councillor Hilary Ackland; Stoke Hill Community Association; Carole Pilley from Exeter Community Initiatives and Amy Jones and Ebby Peters, who offered advice and support to help the group get off the ground.
Tony Rowe OBE, chairman of the Exeter Chiefs Foundation, said: "This is a fabulous project which we are delighted to support. "I'd also like to thank all of the other businesses and organisations for helping us help Wood for Good. The fact that RGB and New World Timber have absorbed a substantial amount of the cost means there is more in the charity coffers to help even more worthy causes."
Jenny Naylor, HR Director for RGB, said: "This is a very worthwhile project that we were very keen to support."
Jerry Hill, Area Sales Representative for New World Timber, added: "I was blown away to see for myself what has been achieved. We'd like to wish the organisers all the very best for the future."
Adam, from Wood for Good, said: "I can't thank our generous donors enough. Without their support launching the project would have been very difficult."